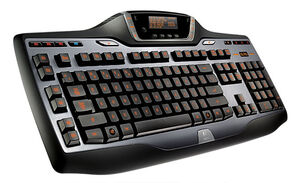 The Logitech G15 is a backlit keyboard with a customizable LCD panel and programmable macro keys.
With the Logitech-exclusive GamePanel™ LCD, you can easily find out what server your friends are using to play Battlefield 2142™, or receive notification when your World of Warcraft® battleground becomes available. You can even identify who's speaking in Ventrilo™. Create useful macros on the fly and play them back with a single press of a G-key. Illuminated characters allow you to play late into the night.[1]
Manufacturer
Edit
Logitech
Specifications
Edit
High-visibility GamePanel™ LCD: Displays game stats and other important system information.
Illuminated characters: Choose from three levels of brightness. Locate keys easily in both bright and low-light conditions.
Six programmable G-keys: Perform single keystrokes or complex macros with six fully programmable G-keys. Create macros on the fly, without having to pause the action.
Intelligent cable management: Keep mouse, headset, and other cords out of the way by routing them through channels on the underside of the keyboard.
Instant media access: Use the convenient one-touch controls for volume and media playback.
G15 Gaming Keyboard's Flipup LCD, dark letters on light background
This is a the 2nd revision of this keyboard. Logitech originally released a different version of this keyboard under the same name. The LCD panel was flipup, the backlight was blue, and it featured 18 'G' keys. The Logitech G11 is the same keyboard, but sans LCD panel. For the brief time when Logitech was making both versions of the G15, they called the blue one the "G15 Gaming Keyboard" to attempt to settle the brand confusion. This version was shortly there after discontinued for the orange version seen at the top of the page. For more details on this issue, see Logitech G15 at Wikipedia.
References
Edit
Comments
Edit